One way coworking spaces can differentiate themselves from one another is through the amenities they offer to Members. These amenities can range from the "basics", such as access to wifi, printers and coffee, to more unique amenities, such as ping pong tables, rotating art exhibits and production studios. So, which is the single most important amenity to consider when looking for shared office space?
The Intangibles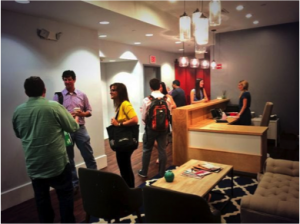 Community! Just as one would factor company culture into a decision around whether or not a company might be a "good fit" for them as an employee, the same logic applies when choosing a coworking space. Because each space takes a different approach to building their Membership base, each has it's own unique culture and vibe. The culture of a coworking space should be in line with your existing company culture, or if you're a startup, what you hope that culture will be.
So, rather than focusing too much on the bulleted list of offerings on each website, we recommend you first consider on how you feel when you're in the space.
Questions to Ask Yourself
When you're visiting a coworking space, try asking yourself the following questions:
Do I feel comfortable here?
Are these people I could get along with?
Is this a place where I would feel inspired and motivated to do my best work?
Is this the kind of place that could serve as a selling point for potential new hires in the future?
If you can answer "yes" to all of these questions, we recommend then (and only then) taking a look at the respective list of amenities – possibly as a way to tip the scales.
Come, Sit, Stay Awhile
If you've successfully narrowed down your list of favorite coworking spaces, consider a "trial run" so you can get a feel for the space and what your workday might be like if you joined. We at Idea Space invite you to come, sit, and stay for the day – no strings attached. Interested? Send us a note!